What are you enjoying the most and the least this summer?
Jak mówić o podróżowaniu i wakacjach?
How was your holiday? Nice? OK? Fine?
a może... memorable, unforgettable, it was the time of my life!
Dowiedz się, jak przy pomocy ok. 30 nieco bardziej wyszukanych przymiotników opisać to, co naprawdę zdarzyło się w te pamiętne wakacje!
So, how was it?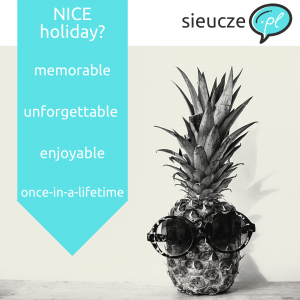 an enjoyable stay and really memorable holidays
affordable prices
severe weather conditions and a life-threatening disease
My passport was invalid  and we had other unexpected  expenses.
Where did you stay? Czyli, co zamiast NICE możesz powiedzieć o zakwaterowaniu (accommodation)?
a luxurious hotel in a convenient location
a well-run guesthouse with basic amenities
vibrant nightlife of the city
an overwhelming place in a touristy area
an overcrowded resort
a dingy apartment with a filthy bedroom
Did you see or do anything interesting? Możesz wspomnieć o tym, co Cię zachwyciło lub o tym, co Cię rozczarowało.
historic buildings and monuments which are really worth visiting
breathtaking landscapes and picturesque views
an unspoilt coastline and secluded beaches
an overrated restaurant with rude staff and bland dishes
disappointing exhibition and pricey entrance fees
Powtórzone? Sprawdź się w Quizie Genially.
A jeśli chcesz z kimś pogadać o swoich wakacjach… po angielsku, sprawdź, czy w mojej ofercie znajdziesz coś dla siebie. KLIK poniżej…